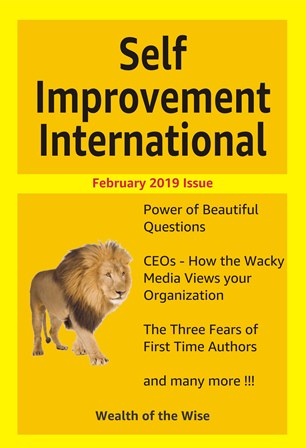 Self Improvement International
FAQs for Submission
---
I want to submit articles to your magazine. Will you accept it?
Maybe, but to consider your submission I have a few conditions. You must have your own website, blog, or links to articles that you have published elsewhere, and preferably be a self-published author with your books available on Amazon and other sites. If you want to contribute regularly, then I would prefer that you become my magazine subscriber or coax all your friends and relatives to subscribe :-). Single copy is just US$0.99 and annual subscription is US$9.99.
---
What kind of articles do you accept?
Your articles must be related to self-improvement, stress management, leadership, management, writing, publishing, and so on. It must help the reader learn something useful for their life skills. Also, your article must be your own creation and not copied from anywhere. Also, it must not be a public domain article or story. All images used must cite sources and must be free for personal and commercial usage. I can also consider publishing articles, drawings, and paintings done by your kids. This is to encourage them to start reading books and magazines instead of thinking that their computers, smartphones, and tablets are only for playing games and chatting.
Download Template for Article Submission - Template
Download Template for Author Interview - Template
Where to send - thejendra@yahoo.com or thejendrabs@gmail.com
---
Do you pay for articles?
Not yet. This is still a new magazine and to pay you my circulation must improve. But I will provide a password protected PDF copy of the magazine if I include your article in this magazine.
---
Do you accept advertisements in your magazine?
Definitely, you can have a half-page or a full-page advertisement. For half-page advertisement I charge US$10 and for a full-page advertisement it is US$20. If you are an author you can even advertise your book cover, links, and a short summary for just US$5/-. Just send me a good resolution JPG or PNG file of size 5 inch x 3.75 inch (for half-page) or 5 inch x 7.5 inch (for full-page) so that it can be stretched to half or full page.
---
I have other questions
Send me an email on thejendra@yahoo.com or thejendrabs@gmail.com

---